For our customers who have purchased our Sublingual CBD Products (Tincture Oil) we recommend you follow these dosage guidelines.
Note: This applies to all strengths of Tincture Oil: 100mg / 250mg / 500mg / 1000mg / 2000mg / 3000mg
We recommend using a ½ dropper, 2x daily (consistently - once in the morning, once at night); Squeeze the end of the dropper until all of the contents are underneath the tongue and hold for 30-45 seconds before swallowing. Following this dosage routine for at least 1 week to have successfully added enough CBD to your metabolism until results would be noticed.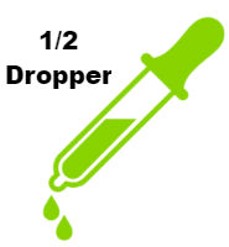 If after you have consistently taken this approach for 2 weeks and you have not noticed results, consider taking a higher mg dosage.
General Usage Notes: Individuals who have the greatest deficiency of CBD in their endocannabinoid system will get the most impact from adding CBD to their regular supplement routine.
Most adults should consider starting with a 500mg strength tincture oil, and depending on their physical condition and other factors, likely want to progress to a 1000mg or higher to get the most benefit from
Factors like age, weight, diet/intake, and other medical conditions should be taken into consideration when thinking about the strength of the CBD product. If you are higher in weight or have compounding health factors, you would likely need to take a higher strength CBD product [1000/2000/3000mg] from ReThink to achieve desired results.