Best Ways to Take CBD
As the demand for CBD increases with public awareness and education, more people are asking questions on how to get the most from CBD!
Some of the top questions are.…How Much Should I Take? What's the best way to take CBD? … and What is the bioavailability?  All great questions - keep reading to get answers for them all!
Bioavailability:
Bioavailability is a rating that helps us determine how fast and how much we absorb something in our bloodstream and ultimately, in our "system" inside our body.
In part, bioavailability helps us determine the overall strength (in mg) and the amount of CBD we would take, just like any other supplement or nutrient. So..
How Much Should We Take?
We should take into account the body weight and health of the person in question, because a healthier individual who is more on target for healthy weight would potentially use less than someone who is overweight and has additional health concerns. Individuals with a larger deficiency of CBD will likely see the most results!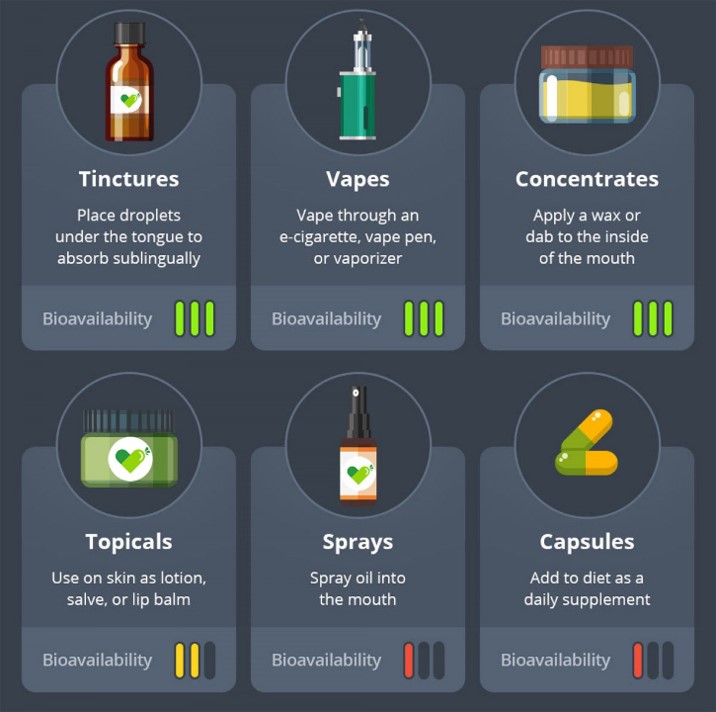 What's the best way to take CBD?
Different than the previous questions, this is something we can answer more simply.
Tinctures
CBD Hemp Oil Tincture is the most effective ways to take CBD. 3-4 drops under your tongue in the morning and again in the evening. Hold under your tongue for 45-60 seconds before swallowing. This allows us to absorb the oil in our system sublingually. This is one of the best ways to take CBD!
Concentrates
This is similar to Tinctures, but the consistency and strength of the consumable product is different. Many Concentrates are consumed the same way as Tinctures, sublingually (under the tongue).
Topicals
ReThink has a topical formula for pain, as an alternative or in addition to taking OTC analgesics (Advil, Tylenol, Aspirin). By applying the CBD Oil infused cream or Roll-On, a pain sufferer can put CBD right on the spot that hurts. The CBD will absorb through the skin and into the muscle below. Excellent for muscle pain!
Sprays 
By using CBD Spray breath freshener, your body can absorb the nutrient quickly, but this method has a lower bioavailability when compared to others. Still effective, but slightly less.
Capsules
This is a popular method that is easy to add to a daily regimen. ReThink has GelCaps that are a hit with those who take a regular selection of vitamins and other supplements. This has a slightly lower bioavailability level when compared to other methods. With CBD GelCaps, it's best to take it with meals as this will stimulate the process, helping to absorb it. You will gain absorption in roughly 45 minutes using this method.